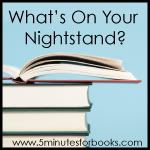 (Click to go to What's on Your Nightstand for the link up)
What?!? You're kidding. It's May? Not possible. Well, I did spend most of April prepping for Braniac's big birthday party so the month went by very quickly. Let's take a look at how I did (I really haven't even had time to look at it yet. lol)
I finished
Smooth & Easy Days
& downloaded
Masterly Inactivity
but didn't start it. Maybe I'm getting smarter.
Still working on
Smart Moves
.
I am going to consider myself "done" with
The Power of a Whisper
. I don't think I'm "ready to give a thorough review" done, but it's good enough. I do recommend it though. Especially for people who wonder what other Christians are talking about when they say they "heard God." And maybe especially for Christians who think they can't. Hybels does a good job explaining what it is and isn't to hear God's "whisper" as he calls it. And if you don't like the way he's always talking about his church stop talking to me about sports all the time. I'd rather hear about a guy's church than all the ridiculous sports analogies men normally use. (And I like sports. :))
The Fitting Room. You know, every time I think I've made great progress with this book, I look down at the bottom and it doesn't even say 50% done. I think the format confuses me. I'll get use to e-books some day. It is going faster now that I've finished the difficult part. It's a long story, probably best for therapy. Suffice to say legalism wasn't my problem so I had to work through her words when I'd been beat over the head with similar words in defense of what I would consider antinomianism.
Somewhere in April I went from, "I'm going to read
To Walk or Stay
by Lara G Williams some day," to, "I'm going to read it now with the online book group." So now I've added that. Much more accountability as we post to the group weekly. It's really a very good book. I had put it in my "too read" list originally because my situation doesn't really mirror hers, then I read a quote I guess it was, wish I could remember exactly what the words were, and I realized it would be very beneficial to read it now. I like that it doesn't dwell on the specifics and thereby alienate readers who haven't been through her same experience. In short, we all need to grow in our faith. We all need to stop relying on ourselves and worshiping an ideal...oh, that was it. She said something about believing Hollywood's lie about what love was and I thought, well, it wasn't Hollywood's lie I fell for (it was a bizarre religious upbringing that basically stated that a woman could not be whole if she was un-wed and without children) but I had a feeling that her book was going to be extremely helpful...and it has been.
I did finish some other books not on my list. One was
Abounding Hope
(also by Lara G Williams), which I wrote about yesterday. I really recommend this study. I look forward to the next one as well. Really like the NON-running commentary. :D Often it's good to be forced to dig for the truth yourself, makes it stick better. I've noticed, and I'm sure most people have, that I can read a few pages and get to the end and think "What the heck did I read?" When we are simply prompted to by specific Scripture & questions, I have found it sticks in my head better. I hope this one is seared. :)
I think I'll stick with those for now. When the new
Hello Mornings session
starts this month (Gads! Is it May already? Yes, I know I asked that earlier.) there will be a new study to start and I will want to give time to that daily. Now that my Sunday's are free again (post-AWANA quiz) and I don't have another birthday party until June, I'll have a bit more time to read...oh, yeah, and AWANA will be over which, while I'm sad, will free up more time since I won't have to help the kids with verses until I start a summer plan with them in June. :)
Well, that's my reading life. I know, you're jealous. That's OK. ;)