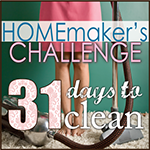 Making Your Personality Work for You.
I have to confess, I peeked yesterday. ;) While I look ahead at the assignments, I don't generally read ahead. I just don't have the time, what with Treasure Isle and the kids wanting to play Petville again. ;D Anyway, when I took the personality quiz yesterday I wasn't really sure it fit me so when I had a free minute yesterday I read ahead to find out what it meant as far as the challenge went...it was right on.
"The "I" Style
You would rather do practically anything than clean! You're super fun and very
people oriented, so cleaning your home, with no one to really talk too but little ones,
is extra hard on you. If only you could have someone over every day to talk and clean
with you, this whole cleaning thing wouldn't be so bad!"
That's the awful truth. If someone would come help me and we could talk while we were cleaning, then repeat at their house, I'd have an awesomely cleaned house. Everything else was spot on as well. So, I've decided to reward myself (I thought maybe forwarding the information to my dh would be either un-submissive, or an exercise in futility. :D). Tonight presented me with the perfect opportunity to figure out how to do that. At first, I was going to buy cute decorations for the house, but that gets costly. Tonight, at the last ASL class I realized it would be a reward to get together with my classmates & continue working on our signs. That way I can get out with people & grow, or at the very least, maintain, my skills.
For our other assignment...the cleaning portion...I cleaned the closet out, and good. No before & after pic coz I forgot to take a before and I'm too tired (lazy) to get up and take an after. It really wasn't as difficult as I've been telling myself it would be all these months. It's not like there's a lot to it, or a lot that needs to be in there. Our closet is actually used for our baby changing station. We have a dresser that is low enough to be used as the changing table. We've used this dresser for all our kids this way. We've never actually owned a changing table. We are in the midst of moving all the baby stuff into the big boy room so I just took everything out of the closet. Only the diaper bags are hanging. Now it's nice and neat again & we can actually find the wipes & the lotion, & reach the diapers without leaving the baby unattended. ;)