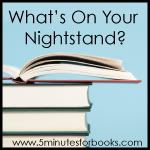 (It's April so I thought pink was appropriate. :))
So, I learned a lot about my reading habits last month as a result of writing down
the books I meant to read
.
1) I am far more scattered these days than I thought. I'm more focused than I have been in the past, but I still need to work on it.
2) I should probably write down the books I'm reading on a piece of paper or some place I will be reminded. Unlike the old days when you could put a stack of books next to your bed, e-books are far more easily forgotten. I was almost through the month before I remembered that I was reading one or two of the books. :/
I finished
Education Is...
by Sonya Shafer. It was a nice, brief encouragement that encouraged creating an environment of learning for your child. So far
Smooth and Easy Days
has been similar, but with more specific information on forming habits.
So the list will stay essentially the same. But there were some add-ons so I'm going to list it in order I would like to finish...
Smart Moves
by Carla Hannaford. The violin teacher loaned this (and a few others) to me so I would like to finish and return it at least. This book has a lot of good things to say about child development that I think will be helpful for BC, and is making me reconsider some things I thought I'd do regarding his education.
The Power of a Whisper
by Bill Hybels. This book came along after I made my list and did cut into my list quite a bit. But our church was doing a series on it so I started. Now I find that I really do want to finish it. Been very eye opening, maybe even therapeutic.
Smooth and Easy Days
by Sonya Shafer. I'm almost done so it will be a boost to my mood to have one (hopefully) finished so soon. :)
The Fitting Room
by Kelly Minter. I'm struggling through this. It's a good book but the part I'm in now really dredges up some negative , to put it lightly, feelings about something that I can't really explain here both because I'm not ready to discuss it in public and because I just don't know how to write it down in a way that will make sense. Anyway, I will attempt to push through this slough of reader's despond. ;)
I'm going to put the Sanger book "on the shelf" for this month. That will probably encourage me to read it more. :D Yes, I rebel against myself.
The other three are the same studies/devotionals.
Well, here's to actually finishing two this month. :)
PS Does it bug you that I cut off the top of the book in this picture? Coz it's annoying the heck out of me. :)
PPS Linking up with What's on Your Nightstand? at 5minutesforbooks.com.
PPPS I forgot to say that I *did* finish a few more books, but they were not on this list. I really do have a hard time staying on task. :D