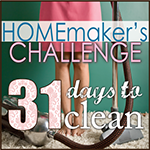 Today's assignment was rather simple though it will take longer to accomplish than I planned. I have a self-cleaning double oven but I can only clean one oven at a time. 3 hrs for the top, 5 hrs for the bottom. I'll do the last one tonight.
We were also to think about hospitality. This is not a thing I really struggle with except as regards time. I had already planned to have a couple of friends over during the next few weeks, if they can handle the heat (we have no a/c). :) I clean as well as I can, but I know I always forget something, whether it's cleaning the mirrors in the bathroom, or cleaning the front of the dishwasher. But I never really worry about it coz I'm just not wired that way. When I go to someone's house I barely notice if there's a mess. I notice the way the person makes me feel. Do I feel welcome & comfortable? Or do I feel that if I (or one of my kids) so much as drops a crumb on the floor the hostess will freak out. I have always tried to have a more relaxed atmosphere in our home...I probably go overboard sometimes. :D
I think the thing I'd like to focus on as regards hospitality is keeping things Christ-centered. This is such a difficult thing in the West and I rarely see it done either in my home or in friends' homes. I pray that I will be able to find ways to do so.