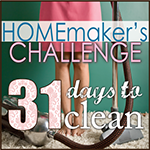 OK, so it's a little late. I saw another person who just posted today too so I'm in good company. ;)
But, seriously, I've been so busy, what with "entertaining" and all. I was surprised on Thursday night that I'd be putting that into practice a little sooner than I'd planned. It was a great time, though. Then, of course, Mother's Day. We had my in-laws over to "entertain."
Before I get onto Day 5's specific task, I have to tell you about what happened with my refrigerator. What happened to my so-clean-it-was-blinding refrigerator was, somewhere between Friday afternoon & Saturday morning, someone wiped a chocolatey finger on it.
I don't know about you, but it looks like a child sized finger mark to me. Now, the reason I share this is that in the old days, if I had spent THAT MUCH TIME cleaning the refrigerator...well, pity the child who did this. But that's not what happened this time. I just looked at it, thought, "I need to wipe that off." Then I realized I didn't go ballistic over it & took a picture to remind me of this breakthrough, THEN wiped it off. :D
I've prayed a long time that I'd mellow out. It's happened bit-by-bit, but lately (I think) it's been happening a little faster. I believe God led me to this book/challenge for this reason...to remember that it is Him I am working to bring glory to, not to myself, my husband, my family. When I keep my focus there, these little things (and *really* these are such little things) don't bother me.
Now for Day 5....
This really was a day to think a whole lot about a whole lot of things. I'm not sure I've done it justice. I am not going to cover all the five things here as some are far more personal than blogging allows for.
Priorities
1) God--I really must give more of my time & effort to Him. He is the Maker of all things & the Author and Finisher of my Salvation. I need to pray more, and specifically that I'll find my rest in Him. To that end I will continue to read my book (The Rare Jewel of Christian Contentment) & have joined up with GMG to be held accountable to a regular time of reading & study of God's word, and prayer.
2) Husband--This is far too personal, suffice to say it requires a lot of prayer.
3) Children--I need to make sure I'm making time for each of them. I need more patience. I need to continue to show unconditional love so they in turn will have that to give to others. To that end, less time on Facebook. :D I was already half-way out the door, but held out when a certain circumstance seemed to necessitate. Now that that's over (it's a good thing getting rid of nasty people isn't as easy as de-friending them on Facebook) I hope it will be much easier. Of course, the risk is to give myself over to the blogging instead. Always a balance.
4) Home--I need to make sure I have my priorities straight. "God first" has made this a much more pleasant venture. I am so grateful to Him for His continued work on my heart. I will finish this "31 Days..." then I might repeat it. :)
5) Gifts--This is a toughy. I may have some but I don't know what they are. I think I will mainly focus, then, on trying to be a witness for Christ where He has placed me, regardless the circumstances. (Boy, is this asking for trouble, eh? I'll let you know how that goes. :))
6) Personal--To try to stay focussed on what I want instead of being distracted by something new & "shiny." I need to be diligent in studying for my sign language class. And equally diligent in continuing my reading.
As for the physical task of cleaning the window, that was fairly easy, except the part where I have to climb almost into the sink to accomplish it. :D
I am striving to make my workspaces as cheery as possible. I use an old flour jar with sunflowers on it for my dish brushes. I try to have at least one plant by my open window. It's hard to place things on the ledge outside since our area is prone to high winds. I'm nervous I'll lose something. I've been thinking of gluing some stuff on. ;)
I bought colored spray bottles last week at IKEA for my window & counter cleaners. They look much nicer than the old Home Depot-style bottles. I need to find something for my dish-soap and hand-soap now. I also have a couple of the rocks H-F brought me from the yard. As you can see by the one-item-per-square thing, I'm a bit weird. When we get rid of the tile, it won't look this neat. Hope I can handle it. :D