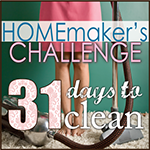 "If you're priority is to keep your house in order and pay attention to your kiddos,
but you find yourself on the computer more often than not, you may have to regulate
yourself by setting a time limit."
Ouch! That hurt. Nobody said this much pain would be involved. :D I have to say, the days I've been able to do the "assignments" I've dug for much less treasure on Treasure Isle. :)
Today was very simple. Clean the window in the office, etc. My "office" is a corner of the family room where my awesome roll top desk is located. I love my desk. Some probably think I love it too much. ;) This week I'll be showing it more love. Anyway, The window was easy to clean. As was the area surrounding. Of late it had become a collection area that didn't get cleaned even if company was coming. Now I've thrown all that in the garage (I'm dealing with it this summer & it's stuff to store there so it's not purposeless). I'll probably go on to start the other office assignments due to the busy-ness of the rest of the week. We have violin tomorrow morning since there was a holiday yesterday & I need to get the kids' haircut this week as well. It's time for their annual paid haircut. I usually cut it myself, but before recital I pay to have it cut so it looks really nice. It will be Babycakes' first haircut. Now he won't have hair hanging in his eyes in his birthday pictures. :)
As for the scheduling, I will have to put this off until a later date simply because our normal routine is about to be thrown out the window for Summer Intensives. Our normal routine revolves around ballet classes but in July the kids participate in Summer Intensives which, for The Teenager, is an all day, every day event, similar to school.
In the meantime, I used this site (
http://www.dltk-cards.com/chart/
) to create a list of chores that need to be done by everyone each day. We will post it and the kids will write their initial in the square if they do it. Guess I should thank my dh now for not letting me give them all "S" names. :D
Here's our "command central." I use the wipe off weekly calendar for events that happen every day. It stays the same most of the year, until Summer. There are a few things missing because I have already started updating it for Summer. I use the monthly, traditional calendar for things that are different each day, like doctor's appointments, field trips, special rehearsals, etc. I post other information like the ballet annual schedule, upcoming concerts we might want to attend, reading lists (though those will eventually end up on their own school boards once the Summer Reading gets started at the library.). I try to decorate it seasonally. At Christmas I bought cheap ornaments from Target and hung them up. This Spring and Summer we got various flowery decorations from the dollar bin at Target. Not sure where I'll find room for our schedule. This was the biggest board I could get so it's not going to grow anymore. :D