Before I start with Day 26 of the 31 Day Challenge, I'd like to direct you to
this post at The Homeschool Village
. As a bibliophile I'm not sure if I can part with any books, but I think I can probably send some school supplies. :)
~~~~~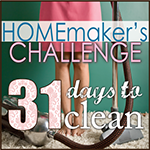 So, after a hectic weekend during which I was basically home to sleep, I finally finished my desk project today. The most difficult part is always the top of the desk. I don't know why. There really isn't a lot to find a place for, just a lot to dust.
Here are some of my files that actually have labels.
Today's topic was laundry. I'll be doing a lot of that this week, at least what my dh doesn't get done. We'll be travelling next week so we need all the clothes we have. I don't want to spend an entire day of the trip in the laundromat. :)
There were some really great ideas in this chapter on getting the laundry done, folded, and put away. One thing we'll be doing differently when we return from Texas is having each of the older three children do their own laundry. I actually got this idea from a conversation a few moms were having at ballet a few weeks ago. One woman, who has less children than me (I always assume around here...I think I know all the ones that have the same or more. :D), said she has been having her kids do their own for years. They each have their own basket and their own day. Well, how about that? I have five kids, and there are five days in the week. (We are not home on weekends so Sat & Sun never count as real days of the week here. ;)) So when we return each child will get a basket, a day, and, definitely, a Tide Pen. I'm looking forward to it, though not as much as my dh will be. (Obviously, Babycakes will not be doing his own, but I do plan on teaching H-F.)
Now, all our kids share a room. It used to be the Master Bedroom, but the kids outgrew their room as soon as we found out #5 was coming along. It's worked out really well. We even found a five-man bunkbed for them and got it mega-cheap on clearance at Christmas. What an incredible blessing that was. Our big splurge this year, though, has been on wardrobes for each of them. With the bunkbed, a lot of space was opened up so we have room for the furniture. We saw them at IKEA and figured they'd work perfectly. Each child has space for plenty of clothes...not all they own now, but all they need for a week. Here is a link to everything they have in this particular system:
http://www.ikea.com/us/en/catalog/categories/departments/childrens_ikea/18835-2/
. Anyway, now there is no reason to argue about whose clothes go where, in which drawer, etc. They each have their own space & can, to a certain point, organize it the way they like.